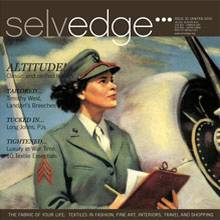 I am a self admitted magazine junkie. From National Geographic to Elle and everything in between. I can't get enough. I love the glossy pages, the ease with which I can tote them around for easy access on the subway or when waiting in a long line, the beautiful photography, and tabbed corners of pages I want to revisit, I can't stop. So when I stumbled across the publication Selvedge, the hairs on the back of my neck stood up. What? A visually beautiful magazine geared towards true lovers of textiles and fiber arts? Sign me up! As stated on their web site, the mag covers the entire gamut: fine textiles in every context with illustrated features on fine art, fashion, interiors, ethnographic textiles, important collections, travel and shopping. It has the latest book reviews, exhibitions and comprehensive listings featured in every issue. It's published once a month in the UK but don't worry, there is a long list of stockists in the US where you can get your fix.
If you're one of those folks who don't need to have a physical copy in hand, you can subscribe to their online issue and have access at all the same information in an easy to view format. There's even a free trial issue available!
As for me, upon discovering this little prize, I immediately became a Facebook Fan, followed on Twitter, and signed up for the Newsletter. Obsessed much? Perhaps, but I already told you, I can't get enough!