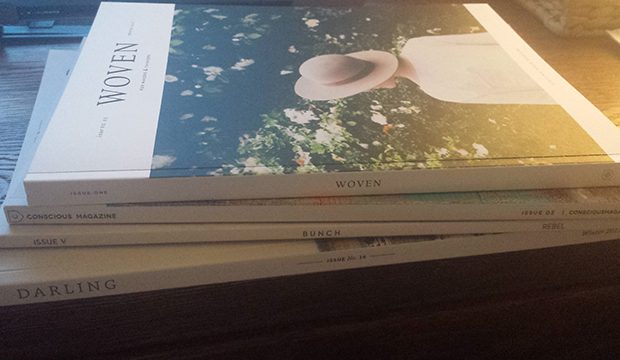 Designers are always asking about getting press. It's understandable. Press is exciting and validating, and gives us that little jolt we sometimes need to keep going when we're feeling discouraged and overworked.
But a mistake that I see a lot of brands making is to constantly be pitching the major press outlets while completely ignoring the smaller, niche publications.
I don't know if you've noticed but the recent flood of independent lifestyle magazines has been incredible. I imagine it is a reaction to the continually growing digital world; to hold a beautiful, thoughtful, artful magazine in our hands feels like a treat.
And you, as independent brands, should be paying attention. So many of these magazine celebrate the maker, the independent creator, the community of emerging talent that you are part of. Use that to your advantage.
Think about how your story fits into their story as a publication; why they would want to feature you and your work. Create thoughtful pitches only after you have spent time learning about them- what their magazine is all about, why their magazine exists, and how you're a perfect complement to that.
—and a description pulled from their website to give you an idea of who they are.
Acne Paper
With an in-depth editorial identity that affectionately merges the past with the present, each issue of Acne Paper explores its subject from various and often unexpected viewpoints. Because of its seriousness in content and originality of style the magazine is being recognized all over the world as an intelligent and glamorous publication unlike any other. Acne Paper has published 15 editions, and during this time the magazine has featured and collaborated with some of the most distinguished names in the worlds of photography, art, fashion, and culture at large.
AnOther Magazine
AnOther Magazine's launch in 2001 heralded a new chapter in magazine publishing. Its blend of high fashion and world-class photography with features on the arts, politics and literature continues to make each beautifully crafted edition a collectors' item. Published twice a year, AnOther Magazine quickly established a reputation for highly original content brought together in its pages by an emerging set of photographers, stylists and writers bound by a search for creativity and authenticity.
ANT Fashion Magazine
ANT is an independent fashion magazine that focuses on the celebration of absurd creative passion and features the pleasantly obsessed. ANT believes fashion is a form of expression that reveals the passion behind each individual. These expressions are real, honest and without shallow incentive. ANT explores the world of creative people who are led by their fixations for very particular things. The name of the publication is inspired by the relentlessly busy, small creature itself: the ant. The insect reflects the pleasant obsessiveness that all creative minds share.
Betty Magazine
Irresistibly girly and quaint, Betty magazine was established in 2010 and is dedicated to giving girls the confidence to be happy with who they are. With each issue featuring vintage inspired fashion and fun reads like how-to guides; Betty is your new best friend!
Bricks Magazine
Bristol based Bricks, is a magazine that supports emerging creatives within fashion. Made by creatives, for creatives, this colorful mag features work by new upcoming talent and is a perfect reference point for students! Each issue holds a different theme, and includes stunning editorials along with articles and interviews with those in the industry.
BUNCH Magazine
We highlight influencers across creative communities, telling the story of risk takers who have merged their passions with their profession. The aim is to cultivate a like-minded collective, a place where readers are inspired and motivated.
Moment to gloat: I was featured in BUNCH's blog as a Daring Creative. Check it out here.
BUST Magazine
BUST is the groundbreaking, original women's lifestyle magazine and website that is unique in its ability to connect with bright, cutting-edge, influential young women. With an attitude that is fierce, funny, and proud to be female, BUST addresses a refreshing variety of young women's interests, including celebrity interviews, music, fashion, art, crafting, sex, and news. Hip, humorous, and honest, BUST is a cheeky celebration of all things female and a trusted authority on up-and-coming trends among discerning, educated, and culturally aware women.
Carbon
Independent fashion magazine based out of Tempe, Arizona, reporting on new brands, designers and trends.
Cereal
Stocked in chic fashion stores such as COS, Cereal magazine is a bi-annual travel and style magazine with a minimalist feel. With each issue you can learn about different cities around the world through 176 pages of beautiful visuals and aesthetics, and they also offer city specific guidebooks featuring a photographic essay of each city and personal essays from creative locals.
Conscious Magazine
Conscious is a magazine that explores how innovative ideas and creative solutions are used to create impact around the globe. It is a movement and a community with a strong human connection, inspiring readers through powerful storytelling and beautiful design about what it means and what it takes to be a conversation starter.. Through narratives, interviews and collaborations, Conscious features global initiatives, entrepreneur/advocate stories, innovative ideas, creative solutions, conscious culture and more. Conscious collaborates with leaders to deliver stories that inspire, educate and drive action.
Dansk Magazine
The world's most independent fashion magazine slick and modern, DANSK presents international fashion seen through the smoothly minimalist eyes of DANSK – a rather distinct style, which can only ever be uniquely DANSK. The magazine focuses its attention on delivering an expert expression evident in supreme imagery, premium fashion, highly opinionated writing – a fashion title rarity – and an uninterrupted element of humor.
Darling Magazine
Darling is an independent, 100% ad-free, quarterly print women's magazine with a "no-retouching" policy. A magazine developed upon a foundation of empowerment of women, it claims the slogan, "the art of being a woman."
FLUX Magazine
FLUX is a spirited, independent fashion, music and arts magazine featuring the best, living, breathing culture from the UK & across the globe. FLUX was launched as a fanzine in Manchester in 1997. It evolved into a high end style and culture magazine distributed across the UK and beyond.
Frankie
Frankie magazine is a national bi-monthly based in Australia, aimed at women (and men) looking for a magazine that's as smart, funny, sarcastic, friendly, cute, rude, arty, curious and caring as they are. We cover design, art, photography, fashion, travel, music, craft, interiors and real-life stories – we aim to surprise and delight readers with every turn of our beautifully matte pages, and have a good old laugh while doing so.
FUSE Fashion Mag
A fashion magazine for the upscale woman that has an eye for quality, a strong sense of beauty and the desire to enjoy both.
Gentlewoman
The Gentlewoman celebrates modern women of style and purpose. Its fabulous biannual magazine offers a fresh and intelligent perspective on fashion that's focused on personal style – the way women actually look, think and dress. Featuring ambitious journalism and photography of the highest quality, it showcases inspirational women through its distinctive combination of glamour, personality and warmth.
HESSIAN
HESSIAN is an independent style magazine that's out to prove you can look good and buy consciously. It's all about finding better choices, without the boring stuff. One of the issues the world faces today is that we buy way too much. At HESSIAN, we're not anti-consumption but we do want you to start thinking more about what you buy and why. 'Cause let's be real, just because something is organic doesn't mean you actually need it. HESSIAN is about style and longevity so we aren't driven by the latest collections or trending looks. You might even see things in our mag from a few years ago that still look just as good today. Staying away from shitty trends, we promote quality local production, independent design, good craftsmanship and advocate style that transcends seasonal fads. HESSIAN isn't about making radical changes or overloading you with yawn-worthy details.
Kinfolk
Kinfolk is a lifestyle magazine with a difference. Targeted at young creative professionals, Kinfolk encourages readers to simplify their lives, cultivate community and spend more quality time with friends and family. Different issues focus on different themes, the most recent issue exploring all aspects of design and how it can improve your quality of life. If you want to delve into minimalist living, Kinfolk is the magazine for you.
Lady Gunn
LADYGUNN magazine is a print + online publication with headquarters in New York, Los Angeles, and Stockholm. We are an independent publication with emphasis on music, people and fashion. We believe in those that shape, and push the rules both on the page and in the field. We love you!
Liner Magazine
Liner Magazine is a quarterly, independent magazine dedicated to personal style in all things. The theme varies each issue, but the general idea is to explore personal style–not just in appearance, but in life.
Lone Wolf
Lone Wolf is a magazine that believes fashion is not just about clothes, but a language that speaks to what we value as a culture. Their philosophy lies in empowering women and making them feel beautiful, strong and intelligent; nourishing minds as well as creativity! Each magazine is filled with beautiful fashion spreads, and articles on topics such as career advice, philosophy, the art of living and interviews with artists.
Lula
More coffee table art book than magazine, Lula is whimsical and ethereal in tone, mixing high fashion and interviews that feel like late night chats with people you wish you knew.
Mash Magazine
MASH magazine focuses on connections between beauty, fashion, and design. It is a print and tablet based magazine. Mashawnta Armstrong, Editor in Chief, loves to showcase fashion editorials that provoke social change.
SOMA
Hailed internationally as the seminal voice and vision of independent, avant-garde arts, fashion, culture and design for 27 years, SOMA Magazine has cultivated immense organic appeal and forged its place within the thriving creative industries and communities the world over.
Suitcase Magazine
SUITCASE Magazine is a multi-media publication that is re-imagining the role of the travel magazine. Saying goodbye to the impossibly luxurious and the underwhelming tourist clichés, and embracing the eclectic and adventurous appetite of a generation of creatives and entrepreneurs, SUITCASE exists to change the way you travel.
Trouve Magazine
Trouvé is a bi-annual printed magazine celebrating the creative lifestyle and those who live it. Trouvé literally means "to find" (French). Our pages document stories of found creativity, passion and hard work; giving tips, inspiration, and thoughts along the way.
Each issue has a unique theme, but is built around interviews with makers and creators, essays on ingenuity, culture and lifestyle, and dynamic photography. Our editorial pages are honest, artistic, well-designed, and purposeful, showcasing some of the best creators, innovators, spaces, and places. We share our unique and found inspiration within the pages of Trouvé Magazine. We hope you'll get a mug of good coffee, and set aside some time to enjoy these stories.
WOVEN Magazine
Woven Magazine exists to celebrate artists, craftsmen, and makers alike to share their stories of fear and triumph, risk and return.
Happy Pitching!